The city's origins date back to the Etruscan-Roman; From the rock you can see the defense complex of the castle, built in 962 by Emperor Otto I, and the tower, symbol of San Miniato, built between 1217 and 1221 by Emperor Frederick II.
The Cathedral overlooks the Piazza del Duomo and dates back to 1200; The front is decorated with ceramics arranged in the shape of Ursa Major and Minor constellations.
The Convent of San Francisco, according to tradition, was donated by the nobles of San Miniato at San Francisco who was staying in the nearby Abbey of Santa Gonda.
Also notable is the Church of St. Stephen and St. Michael, built in the twelfth century, that preserves a wooden crucifix from the fifteenth century, notables frescoes and stained glass mosaic, as well as other churches and palaces to visit.
Situated along the Via Francigena, the city that was of Frederick Barbarossa, Pope Gregory V and Napoleon Bonaparte, gave birth to the film-makers Taviani brothers.
"City of Good Living" as well as "Slow City" and Slow Food's presidium of "mallegato", is a land of special food and wine, first of all the truffle, the "king of the table".
San Miniato, Truffle City, dedicates to the precious tuber the main food and wine events in the historic center and in the nearby villages: in March for the "marzuolo" truffle; between September and November for the white truffle, ending with the National Exhibition.
Piazza Duomo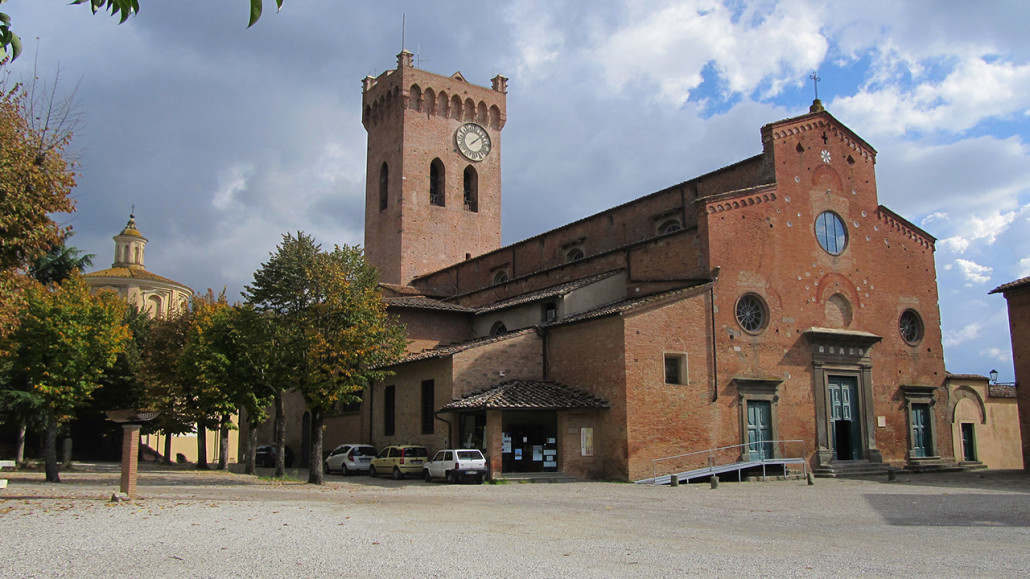 Along with the nearby castle lawn, the square was the fortified area of ​​the Swabian castle, surrounded by walls and towers; irregularly shaped and elevated above the rest of the city, it is accessible by five flights of stairs and a road.
On the square are some of the oldest and most prestigious buildings in San Miniato.
These include the Cathedral, rebuilt by Frederick II in the first half of the thirteenth century, which was expanded in 1489 to include the tower (named "tower of Matilde", used as a bell) which was part of the walls. The facade is decorated with thirty ceramic "bacini" (literally "basins", was decorative elements seems like bowls) from North Africa and referring to the time of construction.
Nearby, are the Diocesan Museum of Sacred Art, Palazzo dei Vicari, probably dating to the second half of the twelfth century, and the Bishop Palace.
This incorporates the thirteenth-century towers of Pallaleoni and Captains of the People families, as well as other fourteenth century buildings.