Ponsacco, already inhabited by the Etruscans, is known abroad as the city of furniture and furnishings; the name derives from Ponte di Sacco that is presumed to be its founder.
It had strategic importance as the border between the Republics of Pisa and Florence, so that it soon became a fortified castle.
Among places of worship should be noted the archpriesthood of San Giovanni Evangelista in neoclassical style, built between 1823 and 1836, which contain the polychrome terracotta Madonna statue attributed to Benedetto da Maiano; the bell tower, built between 1862 and 1873, has a strong inclination as the head master, during works, he moved the tower outside the center of the foundation; Baptistery preserves the ancient bell, cast in 1372, on which is engraved the emblem of Ponsacco with Pisa weapon.
Other churches and oratories, full of testimonies, are represented from the Oratory of the "Madonna of the Cough", in Piazza della Repubblica; the the IX-XI century Church of Sant'Andrea in Petriolo, and the 1400 church of St. Pierino.
Near Camugliano are the Chapel of St. Sebastian and the Church of San Frediano built in 1586 and elevated to the rectory occasion of the of Pope Pius IX visit, in addition to the beautiful medici villa-castel in renaissance style, with four corner towers around the centre.
Piazza della Repubblica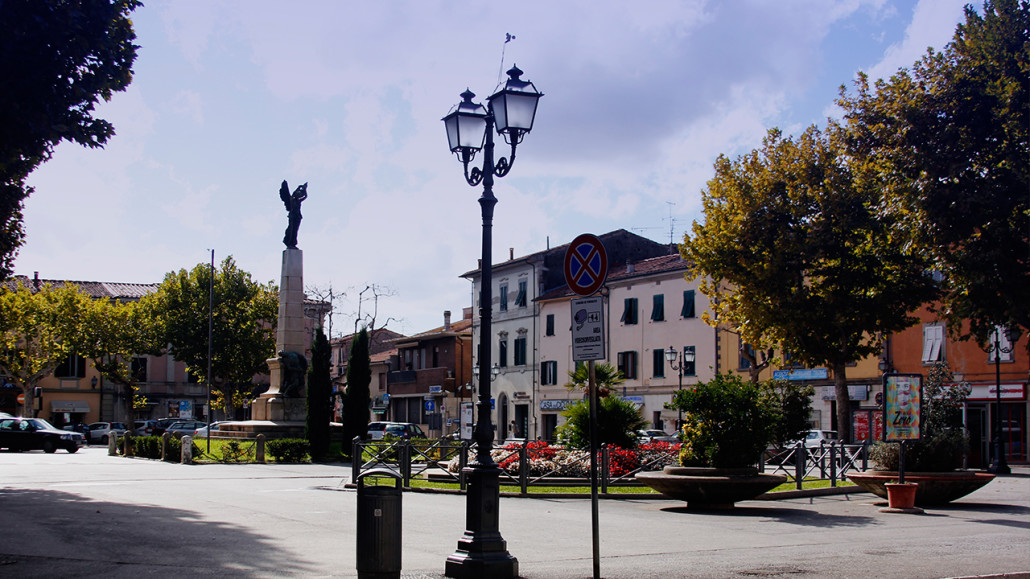 Republic Square is a place of interest for both commercial and cultural, because of monuments and historical buildings.
Among them, the Oratory of "Madonna della Tosse", built in the eighteenth century on the site of a votive capital, including in the old garden of the Franciscan nuns convent knocked down at the end of the last century.
Inside, is preserved an image believed to be miraculous, a fine painted XV century terracotta attributed to Luca della Robbia; the sculpture portray the Madonna with Child and the little San Rocco, venerated with the title of "Our Lady of the cough".
Among the monuments, those to the "fallen" presents a complex architectural form, with three structural blocks and two architectural; on the basement there is a statue of a dying man, and on the top of the stele a winged female figure, that holding a laurel crown with her arms raised.
The square has recently been retrained thanks to the transformation of the historic fountain in a colorful and artistic planter; here, in October is held the traditional Fair of San Costanzo.