The name Pisa probably dates back to the Etruscans, meaning "foce", the river mouth.
Pisa, famous for its leaning tower 56 meters high, has a long history whit its greatest splendor at the Maritime Republics period.
The city is a treasure trove of artworks whose Romanesque and Gothic churches, squares and buildings enhance the quarters along the Arno river and the old streets; There is also a wonderful natural surroundings as the Migliarino-San Rossore Park and the seaside.
The Baptistery with the pulpit by Nicola Pisano stands in front of the Duomo; on the same "Piazza dei Miracoli" are the 130 meters long Monumental Cemetery and the Cathedral, masterpiece of Pisan Romanesque, a huge building entirely covered with marble built from 1063.
Giuli Rosselmini Gualandi Palace, located on the Gambacorti river bank, near the Lombard church of Santa Cristina, known as the Blue Palace, is an important center of culture and art, temporary exhibitions of artists from all over the world; into the rooms, furnished in eighteenth-century style, you can see the major masterpieces of the Fondazione Cassa di Risparmio Collection, and a rich collection of twentieth-century art.
In June Pisa offers many historic revival events, as the Luminara di San Ranieri, the Palio di San Ranieri, the Regatta of the Ancient Maritime Republics and the Game of Bridge.
Piazza dei Miracoli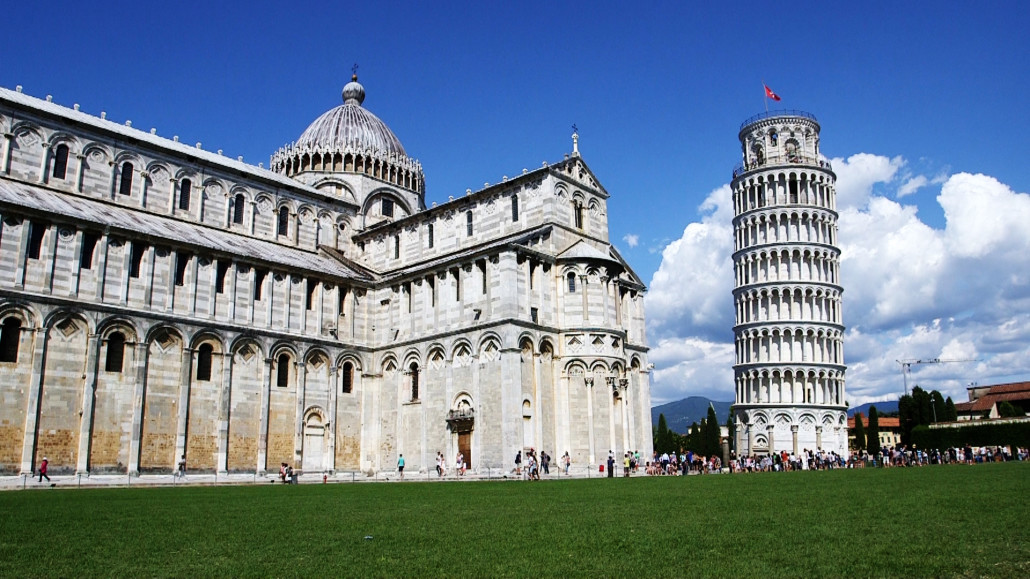 Old city life center, the buildings complex is a tourist destination of inestimable worth to the harmony of its architectural gems that deserved the definition of "miracles" by the poet Gabriele D'Annunzio.
The Square of Miracles, as it was then named, comprehend on a wide green lawn, the four snow-white masterpieces of monumental medieval art.
The complex was built near an ancient port on the banks of a river now disappeared, the Auser; for its central location, the area was chosen as the place of construction of the "Duomo", or Cathedral of Santa Maria Assunta, built in 1064.
In front of this stands the Baptistery, Romanesque too, begun in 1152 by Diotisalvi and finished in the fourteenth century, when Gothic elements were added.
The Camposanto, a monumental cemetery started in 1278, closes the north side of the square.
A Pisa landmark, the "Campanile" or Leaning Tower, completes the "scene". The structure, inclined due to a soil failure, was started in 1173 and has been accomplished in the second half of the fourteenth century; inside, the spiral staircase with 294 steps leads on top, where you can admire the belfry and the beautiful landscape.
(cover photo by Giovanni Cantone)