The history of Monteverdi began in 754 with the founding of the Abbey of St. Peter in Palazzolo by benedictine monks led by Lombard St. Walfredo, whose remains are preserved in the Oratory of the Blessed Sacrament chapel built in 1751.
Subject from Florence and the lordship of Piombino, submitted by Florentines in 1472 during the conquest of Volterra, the village was invaded up to 1814 by the troops of Napoleon Bonaparte, and then, in 1815, returning to the Grand Duchy of Tuscany.
Inside the village, of medieval origin, the Church of St. Andrew the Apostle preserves in some parts the original structure, especially a black crucifix sculpted in '600 by Cosimo Daddi.
Monteverdi is located a few kilometers from the Natural Reserve of Monterufoli-Caselli, a destination for trekking and cycling lovers, thanks to the paths through Mediterranean woods and streams.
Worth visiting the ancient village of Canneto, surrounded by walls.
Among the events, every May 1, the traditional festival of Maggerini, which draws its origins from pagan rites celebrated to ensure the prosperity of the harvest.
Benedictine monastery of St. Peter in Palazzuolo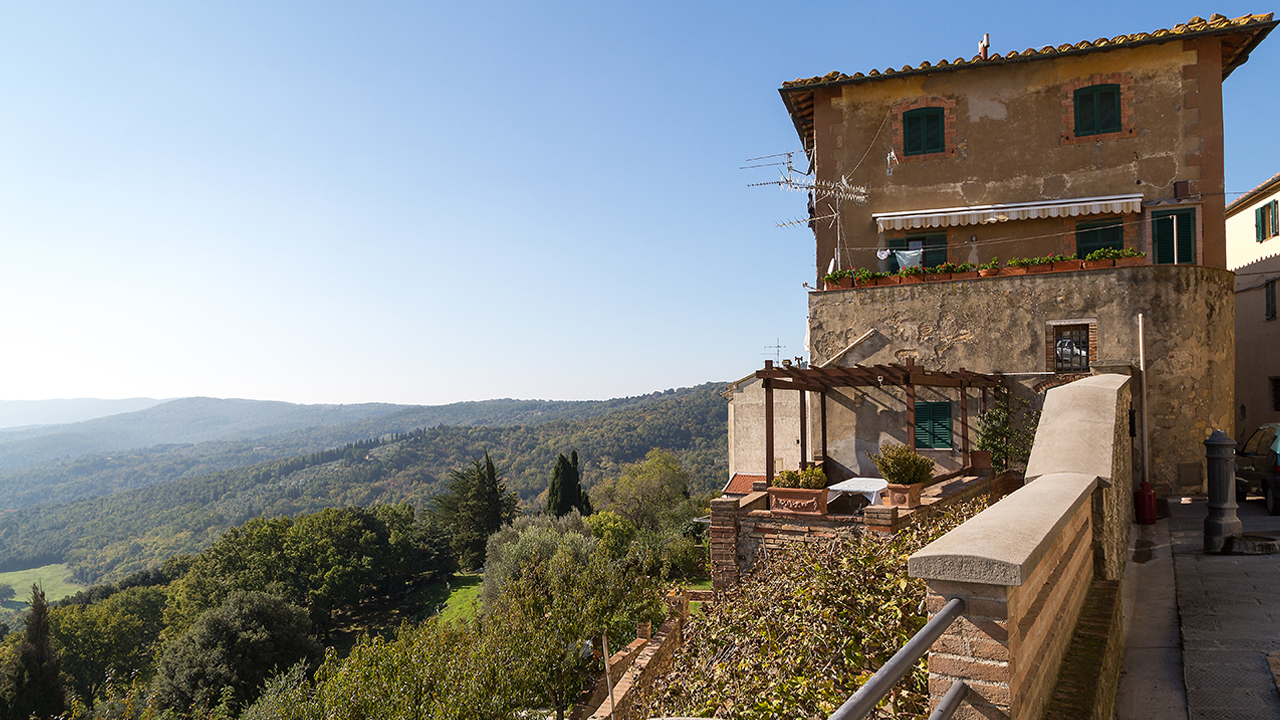 The foundation of the Benedictine monastery dates back to 754 and is linked to the figure of the noble Lombard son of the gastaldo of Pisa Ratgauso Ratchausi, Wilfrido (San Walfredo), considered the founder of the Gherardesca.
It was built on the site of Palazzuolo where he was a Roman villa and a temple of the goddess Bellona; it is uncertain if the Roman settlement was followed by a Lombard settlement, as the name Palatiolum would imply; but the marble frame with Lombard node bas-relief that was found here, almost certainly belonged to the St. Peter monastery.
In the eleventh century the monastery acquired more importance: in 1179 it was moved to its current site in Poggio Badia where you can still see the ruins; in 1298 became Vallombrosan, later in 1561 was abandoned, when it requested the transfer of the monks inside the castle of Monteverdi, provided that it maintained the title of San Pietro.
The interior consisted of a single big nave ending in a single apse, the front and the roof have disappeared, while remaining parts of the left side and the transept; the wall surface is in blocks of limestone, perfectly cut and committed, that on the right side alternate two-color with bands of brick.
(cover photo by Giovanni Cantone)