Montescudaio, a few kilometers from the coast, is one of the most beautiful villages in Italy.
Originally venue of a Benedictine monastery, in the Middle Ages the town was formed by a castle owned by the family of Gherardesca, very important for its strategic position.
Along the "path of memory" are the palaces of noble families, such as Marchionneschi, the Ridolfi and Guerrini, the Church of SS. Annunziata, until you reach the Tower of Guardiola and the Castle Square with the Church of Santa Maria Assunta, with a marvelous panoramic view.
Another route along the Via dei Pellegrini, the area of ​​the ancient Abbey, the natural oasis of Scornabecchi and the medieval water sources.
Montescudaio gives its name, from 1977, to two types of DOC wine: red made from Sangiovese, Trebbiano, Malvasia and other varieties; white-based Trebbiano, Malvasia and Vermentino also produced as dry, semi-dry or sweet Vin Santo.
Since 1968 it takes place the Wine Festival, first weekend of October.
Montescudaio is part of the National Association of Wine Cities, and also City of Bread, the classic Tuscan one, baked in the wood oven.
Abbey of Santa Maria Assunta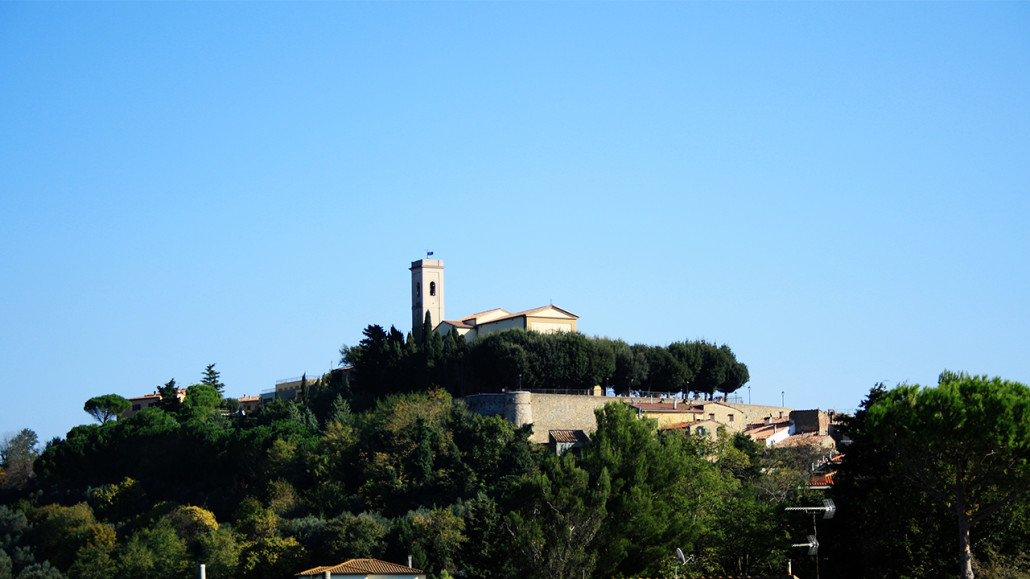 Mentioned in 1092 and also attested in the fourteenth century, in 1416 the church of Sant'Andrea in Castle inherited the title of the removed female monastery dedicated to the Virgin.
Until 1837 the church of Montescudaio maintained a double title: it was the parish church of Sant'Andrea and, simultaneously, the Abbey of Santa Maria Assunta.
The earthquake in 1846 destroyed the upper part of the country and also the church, which was rebuilt from 1854 to 1857 and dedicated to Santa Maria Assunta.
Wider than previous one, and with a Latin cross plan ending with apse, his facade facing west, preceded by a large staircase; inside, you will find an eighteenth century marble statue, a painting of St. Francis of Paola by an unknown artist, and a painting of the Annunciation, attributed to the Venetian school of the seventeenth century.