The first settlements in the area of ​​Lajatico go back to the Etruscan-Roman period, but the consolidation of the current village came from the twelfth century around a castle owned by Count Pannocchieschi, a branch of Elci, before being conquered by Pisa and finally from Florence.
The Symbol of the area is the impressive Pietracassia Fortress, built in the Lombard period, one of the most important examples of early medieval architecture in Tuscany; the name is due to a crack which is open on a huge limestone rock that rises from the ridge ("cassa" means split).
Lajatico is famous as the birthplace of the tenor Andrea Bocelli and for the annual concert in July at the Theatre of Silence, attended by the artist along with other international artists.
Worth visiting the church dedicated to the occitan saint San Leonardo of Noblac of the twelfth century. Nearby, Orciatico is famous for chestnuts, which is dedicated to a festival, and for the presence of two windmills built at the end of '600 still in good condition. The "mofeta of Borboi" is an area with geothermal phenomena object of international research.
Among other food events: in June, the "Feast of Bruschetta" dedicated to local kitchen and wine, with shows for adults and children, and on April 25 "La Sterza in Festa".
The Theatre of Silence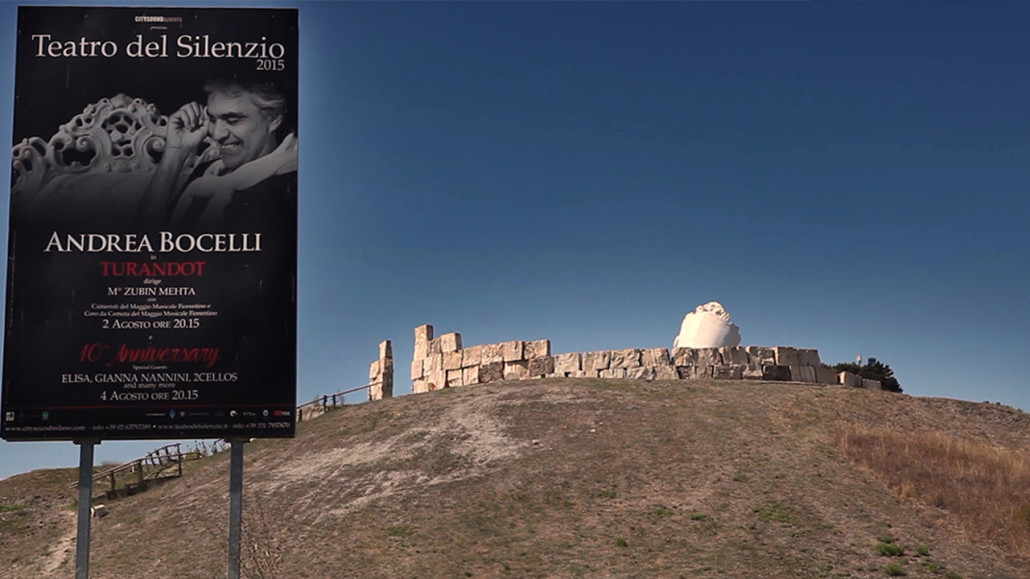 The Theatre of Silence is an amphitheater created by the natural structure of a hill near the village of Lajatico.
The theatre, inaugurated on July 27, 2006, was built by the will of the popular singer Andrea Bocelli which is born in that country.
According to the original idea of the structure, created to be installed and to host just one show a year, it consists of a "stage" of some meter with granite blocks as backgound; the audience, when the theater is not active, is completely disassembled and the stage is transformed into an artificial lake.
From this is originated the definition of Theatre of Silence, that place characterized by hills that, with earthmoving operations, has been created as natural theater.
To the Theatre of Silence, in 2015, was awarded a special mention of "Landscape Award" of the Council of Europe.