Crespina
The first appearance of Crespina dates back to August 16, 983 as Crispina, a name probably derived from a Roman name of person (Crispinius) of Etruscan origin.
Its castle was destroyed during the hostilities between Pisa and Florence, of which remains no trace.
Until 2013 Crespina was an independent municipality and from 1 January 2014 is home to the municipal seat of the new town of Crespina Lorenzana.
The beautiful villas of 1700 and 1800 are very famous, also for the historical presence of painters and artists, like John the Baptist Tempesti, Silvestro Lega and Fattori, members of the movement of Macchiaioli; we report Villa Belvedere, Villa Corsini Valdisonzi, Villa Il Poggio, the Villa-museum Carlo Pepi, famous art critic whose rich collection of contemporary art is visitable.
The mild climate and the natural environment have allowed Crespina to become an international center of horticultural, so much so that every year, in September, hold the Festival of Wine and Nursery in the hamlet Cenaia.
Another ancient tradition is represented from breeding owls, symbol of local folklore, once used for hunting larks; to owls is dedicated an important fair, every year on 29 September.
Lorenzana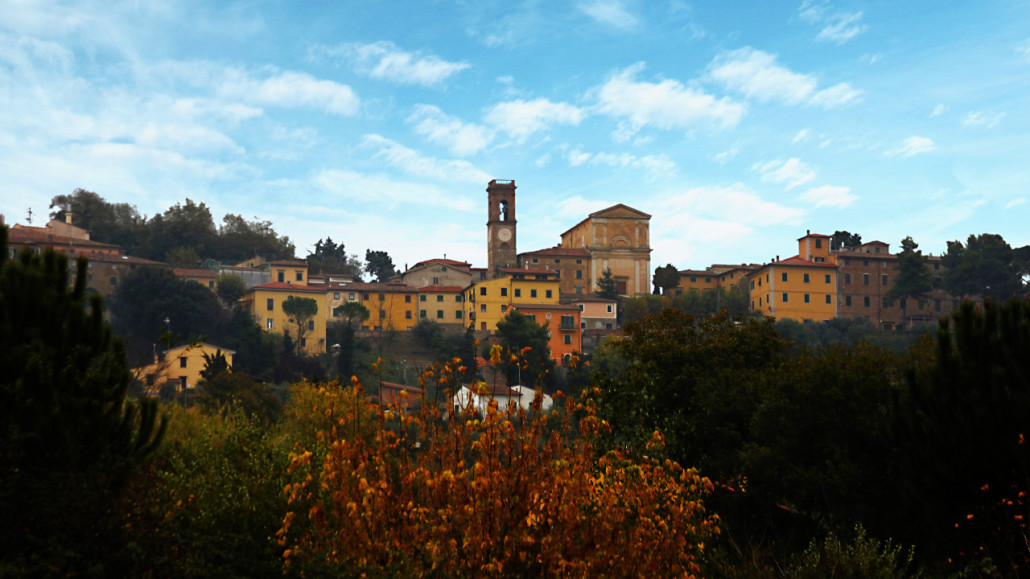 The first mentions of Lorenzana, whose name derives from the Latin Laurentius, are from  the tenth century; the village, a castle in medieval and a feud of Lorenzi Florentine earls, is mainly agricultural as well as located in a picturesque and panoramic countryside.
Autonomous municipality since January 1, 2014, it merged with the village of Crespina to form the new municipality of Crespina Lorenzana.
In place Greppioli, thanks to the great naturalist Robert Lawley, was found the first specimen of a species of dolphin today extinct: the Etruridelphis Giulii, so named in honor of the Counts Giuli, vassals of Lorenzana.
Point of interest are the Church of St. Bartholomew and Christopher; the old Palace of the Lorenzi, which was home of Podesteria during the domination of the Florentine; the farm-house of the Counts Giuli and Villa Sforni, with an adjacent church of the Romanesque period.
Among the events we report, in mid-September, the traditional Festival of Grapes and Wine, where you can taste traditional dishes accompanied by local wine.