Castelnuovo Val di Cecina is a typical medieval village with views of the valley from a height of 600 meters above sea level; we report the sacred places of the parish church with a beautiful crucifix of '300, fine example of Pisan sculptor school, the oratory of San Rocco and the church of the village.
The local economy was related with the chestnut for centuries, even though, during the last century, they begun to exploit geothermal energy to produce electricity and district heating.
Suggestive nature trails reach places of historical interest such as the bridge over the river Pavone, or viewpoint from which to admire the Valley of Cornia and the Gulf of Piombino.
Other points of interest are represented in Montecastelli Pisano from Buca delle Fate, an Etruscan hypogeum of the sixth century BC, and the remains of copper mines, inactive since 1941; in Sasso Pisano, in the itinerary of the fumaroles and the sacred complex spa of Bagnone, dating from the third century BC, which still spring water with a temperature between 40 and 70 degrees.
Among recurring events: in June, the Alta Val di Cecina rally, and in the third weekend of October, Castagnalandia, starring chestnuts, symbol of Castelnuovo.
Sasso Pisano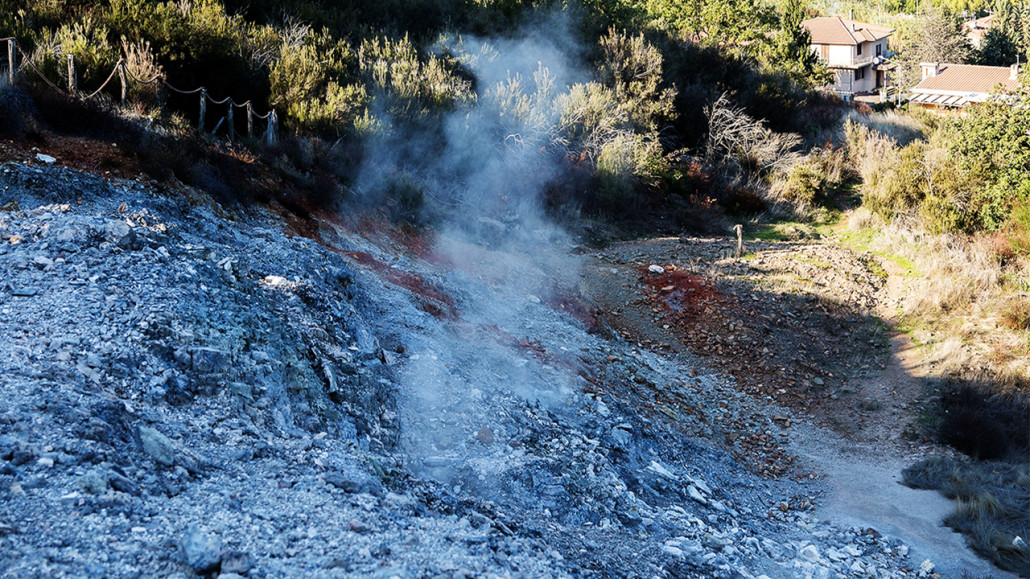 The ancient village of Sasso Pisano, near the pretty village of Leccia, is placed on a boulder near the headwaters of the river Cornia.
There are the ruins of an ancient Etruscan thermal baths and impressive natural phenomena of putizze (cold gas fumes) and fumaroles (gaseous emissions accompanied by steam) that make the landscape fantastic and mysterious, also visible through a trail.
Fumaroles and putizze are an example of the natural geothermal and show how was the landscape of the "Valley of the Devil" before the establishment of industrial activities that channeled steam underground, for the production of green electricity and renewable.
Easily accessible, for a quick visit, the geothermal manifestations and the small park Erga Lagoni village, near which there is the small chapel built in 1958 by Giovanni Michelucci, one of the greatest Italian architects of the twentieth century.
(photos by Giovanni Cantone)