Capannoli, medieval village, is located on the slope of a hill that overlooks the valley of the river Era.
In a position of great importance in ancient times, it was first developed as a fortified village, then as a center dedicated to trade and economic.
In the background the landscape of the Pisan hills, characterized by intensive farming with vineyards, olive groves and orchards, is full of itineraries for byking, hiking and horseback.
On top of the hill called "the castle", where once stood the fortress, there is Villa Baciocchi, building in late baroque and neoclassical style with a botanical garden where you can find 160 different types of exotic and ancient plants.
The villa includes a Zoological Museum and an interesting Archaeological Documentation Exhibition Centre about the history of the area from prehistory to the Middle Ages, with a section dedicated to Etruscan finds from the necropolis of the territory; inside the park, the second Sunday of September, there is the traditional National Bird Fair.
The village of Santo Pietro Belvedere is also important, that today still shows the urban structure of the medieval castle village.
Villa Baciocchi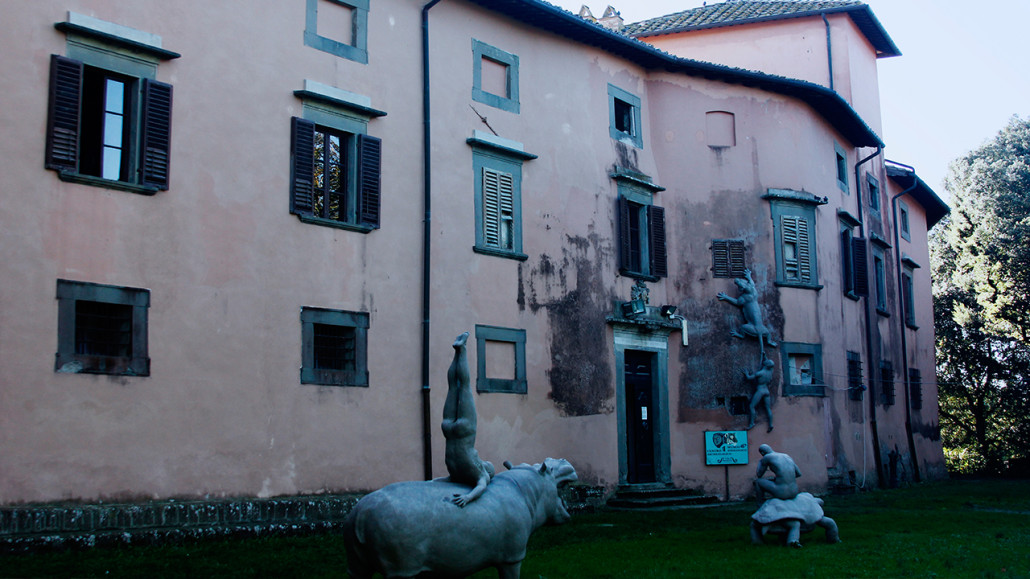 Villa Baciocchi is an eighteenth century mansion located in the center of Capannoli.
Built by the family Bourbon del Monte Santa Marina (one of the most important families of the Medici principality), the neoclassical villa stands where once stood the castle that belonged to the Gherardesca.
In 1833 it was bought by the Baiocchi Family (there are portraits of Count Felice Baciocchi and his wife Elisa Bonaparte, Napoleon's sister, in the murals found in some rooms); Today it is owned by the municipality.
The park next the house was designed in the second half of the nineteenth century by Luigi Bellincioni who designed the garden adding "rustic" caves and neo-Gothic buildings. This admirable "green" space include 12 monumental trees among which stands a Canadian sequoia and more than 160 other species from various areas.
The interior of the villa houses the Archaeological Museum, and, since 1997, the civic zoo museum: the first, preserved pottery, coins, stone elements and "Neolithic materials" found in the area of ​​Pontedera; the second, exposes 330 stuffed animals from all over the world.