Terricciola is an ancient village of Etruscan origin at the confluence of the valleys of the Era rivere, of the Cascina river, and Sterza torrent, built on a tufa plateau.
The village, originally with many towers, from which the Latin "Turris", name of the town, took a leading role among the territories under the Bishop of Volterra, in the twelfth century.
In 1284 the population of Terricciola swore allegiance to the Republic of Florence and thus came the disputes between this and the city of Pisa which took control until 1406; in the symbol of the town, in fact, there are half Florentine lily and half Pisan cross.
In the old town there are interesting findings, such as Belvedere, dating back to the fourth century BC, which collects Etruscan funerary stones.
Among the most significant buildings, are the sanctuary of Our Lady of Monterosso; the ancient Camaldolese Abbey of Morrona, with adjoining a romanesque church of the twelfth century; The two villas Gherardi Del Testa and Cempini Meazzuoli; the villages of Soiana, with Baroque bell tower by architect Bellincioni, and Casanova; the Pieve a Pitti; the Church of St. Bartholomew in Morrona.
Related to wine until the fourth century BC, Terricciola is "City of Wine" with festivals such the White Night, the first Saturday of July, Goblets of Stars, the second Saturday in August, and the Festival of Grapes and Wine, the last weekend of September, on the occasion of vintage.
Borgo di Casanova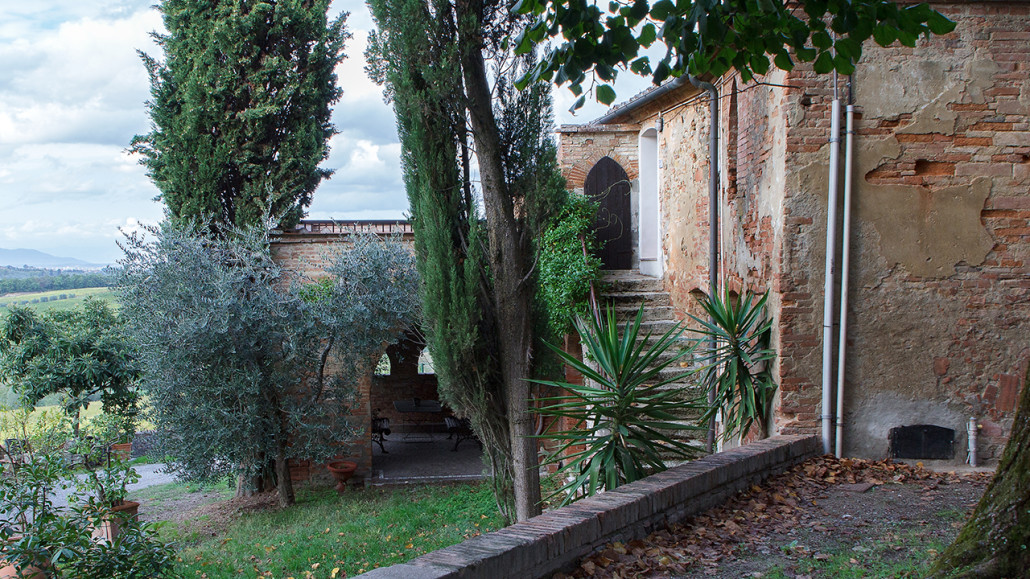 The village of Casanova, already mentioned as a castle in 1164, is located in the road from Terricciola to Selvatelle.
There are religious buildings such as the Church of St. Bartholomew whose current appearance is the result of nineteenth-century remakes.
Originally the church was built of brick, with a simple facade, now enhanced by the large pediment; coverage is a barrel vault and still maintains its nineteenth century decorations.
The interior has a single apse nave, with elevated presbytery separated by a balustrade and two pairs of columns; above the altar they are placed three statues in painted terracotta, depicting the Madonna and Child with St. John and St. Bartholomew, attributed to Giovanni Gonnelli said Blind Gambassi (mid-seventeenth century).
The baptismal font in the shape of a small temple is made of marble; in the counter facade is the choir of wood with the original organ.
(photos by Giovanni Cantone)